The construction of the castle and the influx of soldiers that accompanied it brought great trade to the simple blacksmiths of Bergsdorf, and subsequently the arms trade grew about them in this district. It was chosen as site for the first Court of Arms in 1884 and then unsurprisingly for the construction of the new barracks in 2265. Being the home of such institutions aided the district's trades and cemented its reputation as strongly associated with military professions. As such the district is Ulrican territory and the home of the cults' conservative element for as long as anyone can remember. Indeed the name Beilheim means 'Home of the Axe'.
Beilhiem is home to a lower-middle class, mainly of warrior types: watchmen, local soldiers and mercenaries. Towards the north of the district there is more noticeable wealth derived from the weapon-smiths. Here also is Bergsburg's small community of Kislevites and Norscans. These are the descendents of refugees from the chaos incursions of the 24th Century and now live as a closed clique of fur and carvings traders.
Beilheim is neatly sandwiched between Verenenstadt and Helmsberg. North of Der Klein Dampf can be found the timid quill-pushers of Verenenstadt, all but ignored by most Beilheimers – although the watch have taken to maintaining a stronger presence when necessary to ensure that Ulrican church-goers take any route to the temple except via Kirchenplatz. Meanwhile, Helmsberg is considered a den of thieves, although in style Der Rachof blends in quite well with those buildings south of Ruhigerstrasse.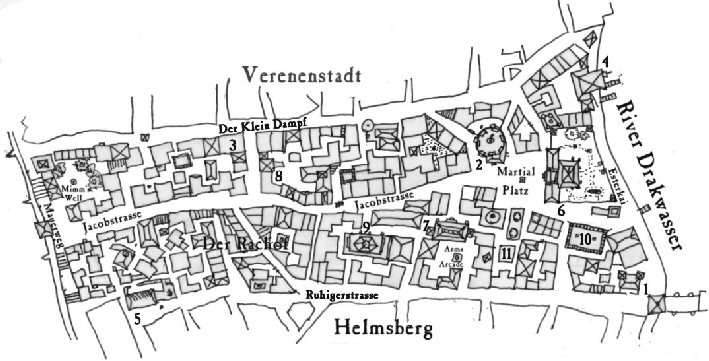 Click map to see location descriptions. Click here to get a big map in separate window.
Main Thoroughfares
The People
Beilheim is predominantly the home to Bergsburg's men-at-arms: mercenaries, soldiers and militiamen, in addition to the artisans of trades associated with these professions and prospectors who are attracted by cheap rents. Due to the fact that the Court of Arms and the barracks are situated here, many watchmen and their families have also made the district their home. Inevitably, the warrior culture is reflected here: taverns, gambling houses and brothels create a rowdy atmosphere that can become intimidating. During the day it is relatively peaceful.
Although in passing un-noticeable, there is a strong underlying tone of Ulrican radicalism in Beilheim: Sigmarites and their teachings are especially un-welcome. Locals are astonishingly biased, regularly cursing Saint Franz for any misfortune and tending to spout the most extravagant conspiracy theories regarding the Church of Sigmar. This radicalism has produced some extremist groups in the past although nothing, as yet, too malevolent.
Street lighting has been neglected and residents rely on torches, adding to the districts intimidating reputation after dusk. Petty crime is low, unsurprisingly criminals avoid an area where Ranald is almost as unpopular as Sigmar. Violent crime is casually accepted by the Watch, who rarely intervene in brawls between soldiers, (fights that tend to get out of hand) and while Pit-fighting is officially banned it continues untroubled in shadowy Beihleim establishments, sometimes under the eyes of high-ranking city officials. Watch patrols are laughably reliable: when their contacts are involved they appear at the first hint of trouble, while when assaults on a known sigmarite occur they are conspicuously absent.
As long as they keep a low profile, PCs should be able to avoid trouble.
Locations
(Note: the locations described here are by no means exhaustive. It is intended that future contributors to the Bergsburg project will use this description of the area to build on what is delineated here. Although the 'major' institutions and landmarks of the area are described, there is plenty of room for expansion and further development)